Premier Custom Color


More than 500 products including name badges, coasters, plaques, acrylics, mugs, beverage insulators, key chains, banners and more.




Premier Corporate Awards


Executive Awards, Gift Items, Acrylics, Glass & Crystal, Desk Accessories, Frames, and Plaques.



At The You Name It Shop...we help You Name It.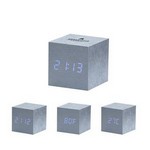 MoMA Alume Cube Clock
Designed by Natalie Sun, the Alume Cube Clock has a textured surface. Snap your fingers or tap the cube and the green LED display reveals the time, date and temperature and after a few seconds the dis...
$45.83 - $63.95
Welcome!

The You Name It Shop offers corporate awards and gifts, and over 300,000 professional-quality promotional items that will get you noticed over and over again. We also provide artwork design and full color banners as well as interior and exterior commercial signage. We can also supply screen-printed or embroidered apparel and accessories, printing services and office products to help you brand your Company's name, launch new products, improve direct mail results or just effectively reach out to new prospects and say 'hi'.
We have proudly served East Texas for over 30 years.
Be sure to take advantage of our full-service 24-hour shopping mall. One HUGE advantage promotional products have over other forms of advertising is that they have a practical use.
In addition to being effective marketing and branding tools, recipients often keep them and the advertiser benefits from repeat exposures! The You Name It Shop is a proud member of SAGE,(#37172), ASI (#343600), and PPAI (#538088) supplier/distributor networks, which gives us leverage to find the best price and quality available.
In addition, our wide range of products assures you a quality solution, regardless of your budget! So, whether you are in need of business cards, uniforms, promotional products, or the works The You Name It Shop can be your one stop shopping source!
When you are ready to buy, our secure check out makes it safe, easy and convenient. Or, if you are just browsing, use the 'information only' option and we'll get back to you. We are a Proud Lindale Texas Chamber of Commerce Charter Member.
Apparel Wear
Choose from hundreds of todays most popular apparel for customization and decoration.
Signature Showrooms